I decided to join the
A Year of Projects Blog-Along on Ravelry >>
- y
ou can find details here >>
So here is my update on what I achieved this week.
24 little advent calendar socks: Reached my first goal for my Year of Projects
When starting the little advent calendar socks, I guessed I would need about 1 hour or less for one tiny sock. Those are on 36 stitches in total, after all! Turned out: I need app. 2 hours for 1 socks, which is about 1/3 of the knitting time I need for an adult sized sock.
The deadline for the advent calendar socks is beginning of October, so I decided to make this project a priority and ONLY knit on the little socks projects. So I reached my fist goal for the YoP: I finished 24 socks, yeah!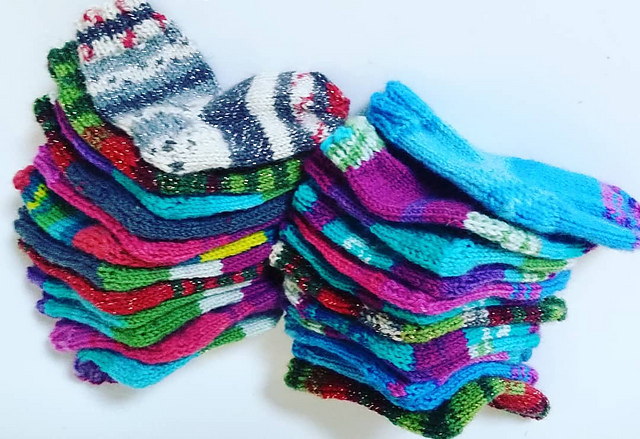 Finding a knitting group here in Ettlingen on Thursday - working on it
I also worked on point 8 on my list: I want to find a knitting group here in Ettlingen to meet on Thursday. I did my first step here as well, I went to the Café Petit Macaron this Thursday (which happens to be directly opposite from the LYS Wollparadies) and had a coffee and some Macarons.
However, I found out that they close at 6 p.m. already and I realisticly can only make it there from the office by 5 - 5:30 pm, so this will not be the best location. Well, I will keep an eye (or both) open to find something which is better suited.
If any of you has a suggestion - let me know in the comments or via e-mail or Ravelry-PM!
Working on 12 pairs of adult socks
After I finished the 24 tiny socks, I started
an adult sized one>>
,
using the "Minecraft socks" pattern >>
which is free on Ravelry. This is basically a rib pattern, alternating every 2 rows. I will be on a business trip in upcoming weeks and needed a simple, portable project, so this fits the bill.
I am using stash yarn from one of the Buttinette sock yarn assortments I got for my birthday last December, so this is also something contributing to my goal of stash reduction or decluttering.
No decision yet on the advent calendar activity
I am quite undecisive still regarding my Advent calendar knitting, I have not decided yet. I tend to use sockyarn scraps-
maybe I really will enter into a swap in the Restend group >>
to get a little more variety in my leftovers. I still have time to decide until October 26.
I went to the Christian bookshop this week and checked if they already have stock of my
favourite advent calendar "Der andere Advent" >>
They did not, well it is really early to ask in September, I admit. But hey, they have Christmas cookies at Aldi since 2 weeks already!
No progress on my Breathing Space sweater
As mentioned above, I made the charity knitting a priority and did not work on the
Breathing Space sweater >>
at all. Well, and I have to admit: Those rounds are reaaaaaalllllyyy loooong and I honestly did not feel like it too much.
Planning starts for Christmas gift knitting
As I was at those advent socks and activities, I also started to think about what christmas knitting I want to make. I am thinking about a triangular shawl for my mum, using what is left form
my Lana Grossa Meilenweit Comfort with Bamboo * >>
part of which >>
I used for
my Vertices Unite >>
I still have quite some yarn left from the grey and the blueish grey, and I did not touch the natural and the copper coloured ball.
Do you have a suggestion for a two coloured, sockyarn weight triangular shawl? Please let me know in the comments or on Ravelry!
In stitches this week: Wore my Vertices for the first time
The Vertices is nice, but I still do not like the Atelier cardigan. It is just to open in front for my taste - if I wear a cardigan, I want to have the opportunity to cover my chest and belly as well. It does not need to have a closure, but there needs to be enough fabric to pull it around me and snuggle into it - which is not the case with the Atelier. I will not knit this pattern again.
So, now over to you: How was your week?
Do you have any ideas for my advent and christmas knitting?
Please let me know in the comments below!
* = Affiliate Link, to amazon.de